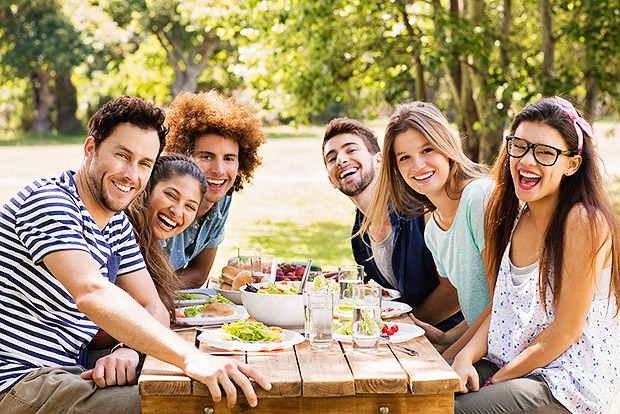 Picnic and cookout season is here! When it comes to healthy outdoor meals, how you prepare and store your foods is just as important as what you serve. These tips will help you host an outdoor gathering that will keep everyone healthy and happy.
Give your guests options.
Help guests stick to their eating plans by providing a variety of options. Large leaves of romaine lettuce can be used to make wraps for those who want to enjoy their burgers without a bun. Marinate vegetable kabobs or mushrooms to grill for guests who don't want meat. Vegetable sticks with a bean dip are a good option for those who want to avoid munching on potato chips.
Keep track of the time.
Foods can spoil quickly in summer temperatures, so keep track of how long they have been sitting on the serving table. Don't keep them out of refrigeration for longer than 2 hours. If the temperature outside is above 90 degrees Fahrenheit, then this time limit drops to 1 hour. Don't allow the temperature of foods to fall in the danger zone between 40 degrees and 140 degrees Fahrenheit. Bacteria can grow rapidly in this temperature range. Keep hot foods hot and cold foods cold by using warming trays, slow cookers, ice packs and coolers.
Make food swaps.
Mayonnaise and cream don't hold up well in warm temperatures. By swapping them out for other ingredients, you can also make your favorite picnic foods healthier. Choose oil and vinegar based dressings for potato salads. Get creative with fresh salads and skip cream-based baked casseroles. If you can't do without with your favorite dishes, try recipes that reduce the amount of mayonnaise used like this Pasta Salad with Grapes and Pecans.
Take advantage of the season.
There is no better time of year for fresh foods than picnic season. Leave the cookies and cakes for the holidays, and make fruit your dessert. Grill fruits for a special treat. You can also turn fresh fruit purees into frozen yogurt or popsicles.
Sources