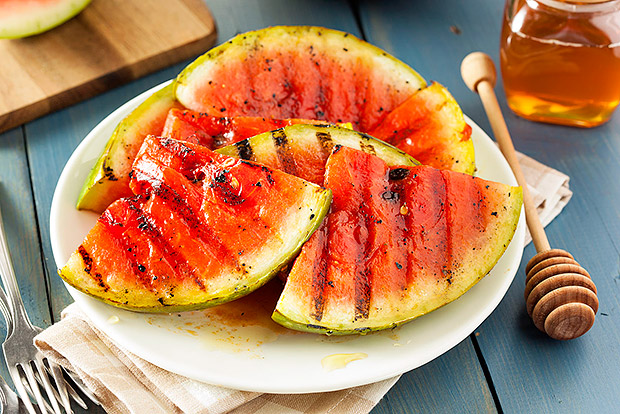 When fruit is heated on the grill, the natural sugars caramelize for a satisfying summer dessert. Slices of fruit can be placed directly on a clean grate, or make kabobs by sliding chunks of fruit onto a skewer. Grill the fruit between 375 and 425 degrees Fahrenheit for about 5 minutes or until softened. Try adding these fruits to the grill during your next cookout for a sweet treat without added sugar.
Cherries
Large, firm pitted cherries are the best for grilling. Slide cherries on a metal or soaked wooden skewer. Flip the skewer once while cooking. Slide the cherries off of the skewer and mix into a fruit salad or serve with vanilla yogurt.
Peaches
Cut firm peaches in half and remove the pit. Place the peaches cut-side down on the grill. Sliced grilled peaches make a delicious dessert, but they can also be added to summer salads for a savory side dish.
Pineapple
Peel and core the pineapple. Lay it on its side and cut into 1 inch thick slices. Flip the pieces one time while grilling. Once cooked, slice into smaller bites for serving. Warm grilled pineapple is especially good sprinkled with cinnamon.
Plums
Cut firm plums in half and remove the pit. Place them cut-side down on the grill. Try this recipe for Grilled Plums with Honey Yogurt.
Watermelon
Cut watermelon into 2 inch thick slices and then cut each slice into quarters to create easy-to-hold wedges. Flip the watermelon wedges once during cooking. Eat the warm wedges alone or dice and mix with feta cheese and chopped fresh mint for a sweet and salty dessert or side dish.