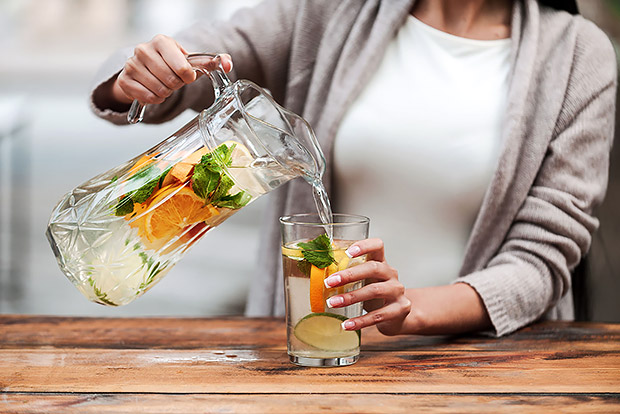 Recommended water intake for healthy adults is 8 to 12 cups per day (64 to 96 ounces). Make sure you drink enough water by finding a way to track your intake that works for you.
Tracking with MyFoodDiary
If you are logging your foods with MyFoodDiary, you can add a water tracker to the dashboard. Once you've logged into your account, simply click the gear icon in the top right, select "settings," and then choose "goals." Once you've set a water consumption goal, you will see a progress bar on the dashboard page.
Use a designated water bottle
Designate a water bottle to use everyday, and know how many ounces it holds. For example, you can keep a 32-ounce bottle with you to sip from all day, keeping in mind you will need to drink two bottles to reach 64 ounces. To make sure you get the water you need, set goals for the ounces you will drink by certain times. For example, drink 12 ounces by lunch or a full bottle before your evening workout.

MyFoodDiary Stainless Steel
Water Bottle$21.95 $15.95
Schedule it
If keeping track of every ounce you drink is challenging, align your intake with specific times of the day. First, select an 8-ounce glass that you will use for your water. If you drink one glass at the top of every hour of an 8-hour work day, you will consume 64 ounces. You can also plan your water consumption with your meals and snacks. Drink two glasses at breakfast, lunch and dinner. To reach 64 ounces, add a glass mid-morning and one in the afternoon. A reminder alarm on your phone may be helpful.
Be creative
A more creative way to track water intake can be fun for the whole family. First, select 8 to 12 dried beans from the pantry, depending on how many glasses of water you need each day. Keep two small bowls on the countertop or on your desk where you will see them. Each morning, place all of your beans in one bowl. Every time you drink a cup (8 ounces) of water, take a bean out of the first bowl and place it into the second bowl. By the end of the day, you'll know you have reached your goal if you have transferred all of your beans to the second bowl.