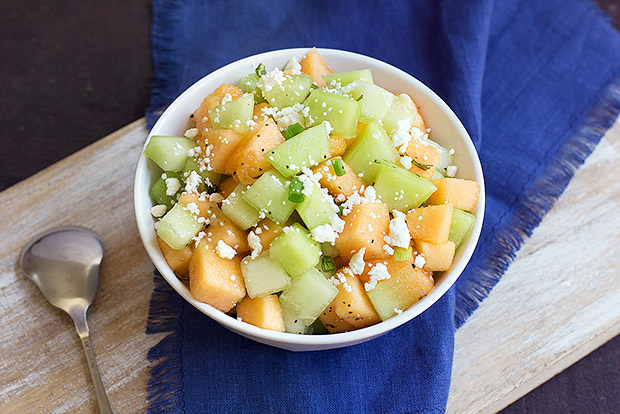 Melon contains few calories and it is rich in vitamins A and C. It also has a high water content, which helps to keep you hydrated. This salad is a sweet and salty combination of fresh melon and crumbled feta cheese. It makes an easy breakfast, or serve it as a side dish at your next picnic.
Nutrition Facts
Serving Size 1/6 recipe
Amount Per Serving
% Daily Value*
Trans Fat 0g
3%
Total Carbohydrate
10.1g
Sugars 9g
*
The % Daily Value (DV) tells you how much a nutrient in a serving of food contributes to a daily diet. 2,000 calories a day is used for general nutrition advice.
Yield: 6 servings
Preparation time: 20 minutes
Ingredients
2 cups diced cantaloupe
2 cups diced honeydew melon
2 green onions, sliced
2 tsp chopped fresh basil
1/8 tsp ground black pepper
2 tbsp crumbled feta cheese
Directions
Place the cantaloupe and honeydew melon in a bowl. Add the onions, basil and black pepper, and stir well.
Sprinkle with the feta cheese just before serving.