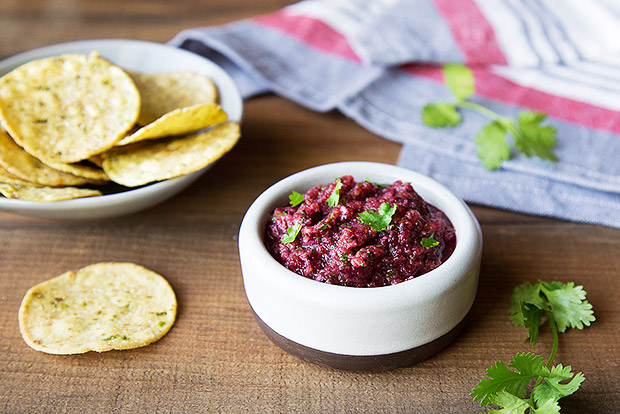 Fresh cranberries are rich in antioxidants that protect against inflammation and disease. This fruit can be used in more than high-sugar cranberry sauce. The tartness of fresh cranberries is reduced by mixing them with other flavorful ingredients such as those used in this salsa. They provide a seasonal twist to a favorite dip and condiment.
Nutrition Facts
Serving Size 1/6 recipe
Amount Per Serving
% Daily Value*
Trans Fat 0g
Sugars 2.1g
Vitamin C 10%
Vitamin A 1%
*
The % Daily Value (DV) tells you how much a nutrient in a serving of food contributes to a daily diet. 2,000 calories a day is used for general nutrition advice.
Yield: About 6 servings
Preparation time: 10 minutes
Ingredients
1 cup fresh cranberries
½ cup chopped red onion
¼ cup chopped fresh cilantro
2 tbsp fresh orange juice
1 tbsp fresh lime juice
1 tsp sugar
¼ tsp salt
Directions
Place all ingredients in a food processor and pulse in 10-second intervals until the cranberries are finely chopped and all ingredients are combined.
Serve at room temperature or chilled.