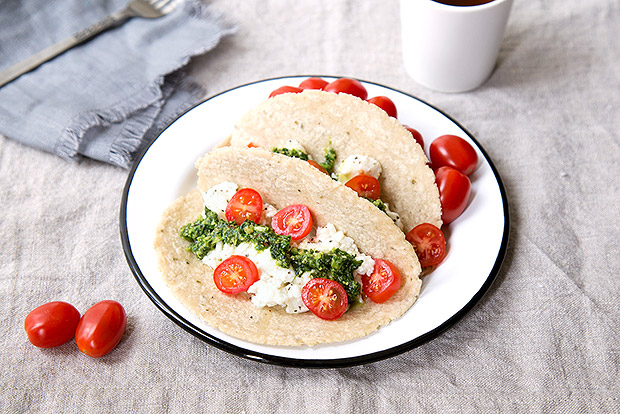 These easy breakfast tacos are filled with protein-packed egg whites. A pesto made with fresh spinach, basil, and olive oil provides vitamins with heart-healthy fat. Fiber from whole grain tortillas will keep you feeling full throughout the morning.
Nutrition Facts
Serving Size 2 tacos
Amount Per Serving
% Daily Value*
Trans Fat 0g
11%
Total Carbohydrate
33.2g
Sugars 3.5g
*
The % Daily Value (DV) tells you how much a nutrient in a serving of food contributes to a daily diet. 2,000 calories a day is used for general nutrition advice.
Yield: 4 servings
Preparation time: 15 minutes
Cooking time: 5 minutes
Ingredients
1 cup fresh spinach leaves
½ cup fresh basil leaves
2 cloves garlic, chopped
1 tbsp raw walnuts
1 tbsp freshly grated parmesan cheese
¼ cup extra virgin olive oil
¼ tsp ground black pepper
1/8 tsp fine ground sea salt
10 large egg whites
8 whole grain taco-size tortillas, warmed
1 cup sliced grape or cherry tomatoes
Directions
Place the spinach and basil in a small food processor. Add the garlic, walnuts, and parmesan cheese. Pulse in 10-second intervals until all ingredients are finely chopped.
Reserve 1 teaspoon of the olive oil. Add the remaining olive oil to the food processor with 1/8 teaspoon of the pepper and the salt. Puree for 20 to 30 seconds until the pesto is blended and almost smooth. Set aside.
In a medium bowl, add the egg whites, 1 teaspoon of olive oil and the remaining black pepper. Whisk for 15 to 20 seconds. Preheat a medium non-stick skillet over medium heat. Add the eggs and cook. Stir often for 3 to 4 minutes, until they are fully cooked, but still soft.
Place two tortillas on each serving plate, and fill each taco with an equal amount of scrambled egg whites. Top each with an equal amount of pesto and sliced tomatoes before serving.