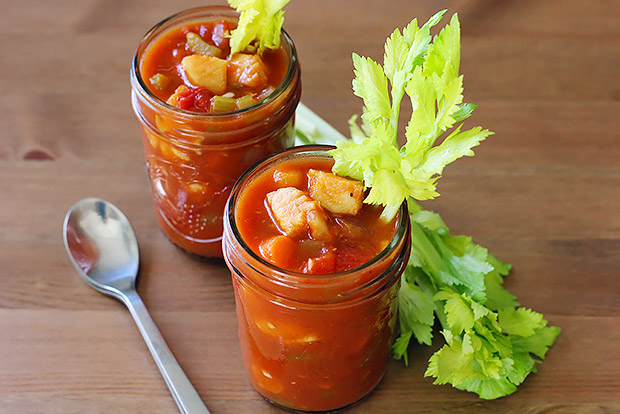 This stew helps you break out of a boring lunch routine by providing a new way to increase your intake of protein-rich fish. It is also loaded with filling, nutritious vegetables. If you don't like spicy foods, you can easily adjust the heat level by using less cayenne pepper or by substituting a mild chili powder.
Nutrition Facts
Serving Size 1/6 recipe
Amount Per Serving
% Daily Value*
Trans Fat 0g
5%
Total Carbohydrate
14.8g
Sugars 8.4g
*
The % Daily Value (DV) tells you how much a nutrient in a serving of food contributes to a daily diet. 2,000 calories a day is used for general nutrition advice.
Yield: 6 servings
Preparation time: 10 minutes
Cooking time: 20 minutes
Ingredients
1 tbsp olive oil
2 celery stalks, sliced
2 small carrots, peeled and sliced
2 cloves garlic, minced
1 small onion, chopped
1/2 tsp smoked paprika
1/4 tsp ground cayenne pepper
1/4 tsp ground coriander
1 bay leaf
1 (15 oz.) can no salt added tomato sauce
1 (14.5 oz.) can no salt added diced tomatoes
2 cups low-sodium vegetable broth
12 oz. cod (or another firm white fish), cut into 1/4 to 1/2 inch cubes
1/2 tsp salt
1/4 tsp ground black pepper
Directions
Heat the olive oil over medium-high in a 4 to 5-quart soup pot. Add the celery, carrots, garlic, and onions. Cook for 10 minutes, stirring often, until the vegetables begin to soften.
Reduce the heat to medium. Stir in the paprika, cayenne, and coriander. Add the bay leaf.
Pour in the tomato sauce, diced tomatoes, and vegetable stock. Increase the heat to medium-high and bring to a low boil.
Add the fish. Reduce the heat to medium-low and simmer, partially covered for 5 to 7 minutes, until the fish begins to flake. Discard the bay leaf.
Stir in the salt and pepper. Serve warm.