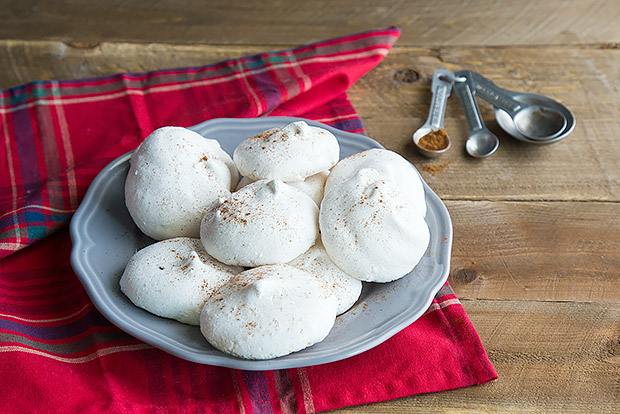 Meringue cookies are a lighter option when you want a sweet treat. While they do contain sugar, they are made without butter and egg yolks, which eliminates saturated fat and cholesterol. This version has festive holiday spices added.
Nutrition Facts
Serving Size 1 cookie
Amount Per Serving
% Daily Value*
Trans Fat 0g
3%
Total Carbohydrate
10.2g
Sugars 10.1g
*
The % Daily Value (DV) tells you how much a nutrient in a serving of food contributes to a daily diet. 2,000 calories a day is used for general nutrition advice.
Yield: 20 cookies
Preparation time: 10 minutes
Baking time: 2 hours
Ingredients:
4 large egg whites
½ tsp cream of tartar
1 cup granulated sugar
¼ tsp vanilla extract
¼ tsp ground cinnamon
1/8 tsp ground nutmeg
1/8 tsp ground clove
Extra spices for sprinkling
Directions
Preheat the oven to 225 degrees Fahrenheit. Line a large baking sheet with foil and spray with non-stick cooking spray.
Add the egg whites to the bowl of a mixer fitted with a whisk attachment. Whip on medium-high until the eggs are frothy, about 30 seconds. Sprinkle in the cream of tartar. Increase the speed to high and whip until soft peaks form, about 1 minute.
With the mixer on medium-high, add the sugar about 1 tablespoon at a time. Turn the mixer to high and whip until stiff peaks form, 1 to 2 minutes.
Fold in the vanilla and spices. Scoop the meringue onto the baking sheet using about 2 generous tablespoons for each cookie. Leave about 1 inch between cookies.
Bake for 45 minutes. Turn off the oven and leave the cookies in the oven for 1 hour and 15 minutes.
Remove from the oven, sprinkle with extra ground spices and serve.