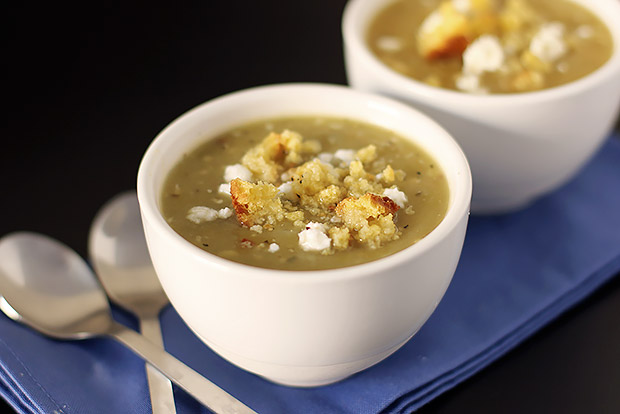 Soup makes a great lunch or light dinner, but many prepared soups contain excess calories, sodium, and fat. When you make soup at home, you control the ingredients and can ensure that you have a healthy meal.
This winter squash soup is not only comforting and filling, it is full of healthy ingredients. Winter squashes such as acorn, butternut, and pumpkin are loaded with vitamin A and fiber. The small amount of feta cheese adds a burst of flavor while keeping each serving low in calories and saturated fats.
Tips for the cook: Roasting your own squash may seem overwhelming, but it's really not that difficult. While it is in the oven, you can prep the other ingredients. You can also use canned winter squash puree or thawed winter squash from the freezer in this recipe. You will need about 4 cups of roasted squash. Keep in mind that the moisture content may vary depending on what type you use, so you may need to add more or less stock to get the right consistency.
Nutrition Facts
Serving Size 1/4 recipe
Amount Per Serving
% Daily Value*
Trans Fat 0g
9%
Total Carbohydrate
27.4g
Sugars 2.9g
*
The % Daily Value (DV) tells you how much a nutrient in a serving of food contributes to a daily diet. 2,000 calories a day is used for general nutrition advice.
Yield: 4 servings
Preparation time: 30 minutes
Cooking time: 15 minutes
Ingredients
2 small acorn squash
1 tbsp + 2 tsp olive oil
½ medium-sized onion, chopped
2 cloves garlic, minced
1 ½ cups unsalted chicken or vegetable stock
1 tsp raw sugar
1 tsp dried oregano
¼ tsp crushed red pepper
1/8 tsp ground allspice
¼ tsp salt
¼ tsp ground black pepper
¼ cup 1% milk
1/8 cup crumbled feta cheese
Directions
Preheat the oven to 400 degrees F. Cut each squash in half and remove the seeds. Use your hands to rub the 2 teaspoons of olive oil over all of the squash halves (1/2 teaspoon per squash half). Place the squash cut side down on a baking sheet. Pierce the skin in several places with a fork. Bake for 30 minutes, or until the squash is tender. Prep the other ingredients while the squash is baking.
Remove the squash from the oven and use a spatula to flip each half cut side up to cool. Set aside.
In a medium-sized soup pot, heat 1 tablespoon of olive oil over medium heat. Add the onion and garlic and cook until the vegetables are tender (around 3 minutes).
Scoop the flesh of the acorn squash from the skin and transfer it to the soup pot. Break up the squash as you stir it into the onion and garlic. Add the chicken stock and cook for 1 to 2 more minutes.
Remove the pot from the heat and use an immersion blender to puree the soup in the pot. If you don't have an immersion blender you can transfer the vegetables to a standard blender or food processor to puree and pour the soup back into the pot. Add the sugar, oregano, red pepper, allspice, salt, and black pepper. Cook over low heat for 1 minute.
Add the milk and continue to heat the soup for about 1 to 2 more minutes. Stir in the feta cheese and serve. Garnish with croutons and more feta, if desired.