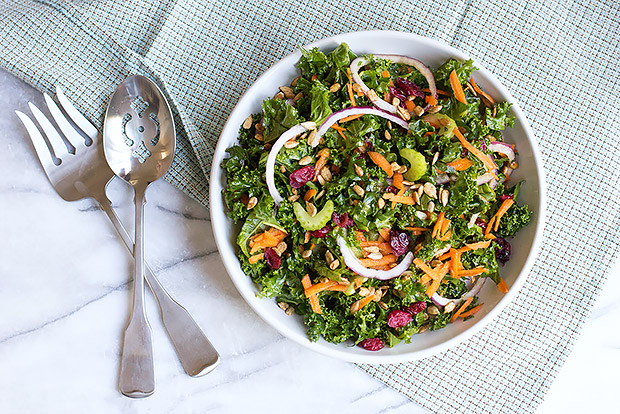 Kale is best known for providing vitamins A, C, K and folate, but this leafy green also contains protein, fiber, omega-3 fatty acids, and beneficial plant chemicals like lutein that promote healthy vision. While sometimes bitter when eaten alone, you can combine it with other vegetables and a homemade dressing to create a crunchy salad that is balanced in flavors.
Nutrition Facts
Serving Size 1/4 recipe
Amount Per Serving
% Daily Value*
Trans Fat 0g
9%
Total Carbohydrate
28.4g
Sugars 13.2g
*
The % Daily Value (DV) tells you how much a nutrient in a serving of food contributes to a daily diet. 2,000 calories a day is used for general nutrition advice.
Yield: 4 servings
Preparation time: 15 minutes
Ingredients
6 cups finely chopped kale
½ cup sliced celery
½ cup shredded carrot
½ cup sliced red onion
¼ cup dry roasted, unsalted sunflower seeds
¼ cup dried cranberries
Dressing
¼ cup extra virgin olive oil
1 tbsp honey
¼ tsp grated fresh ginger
1/8 tsp fine ground sea salt
1/8 tsp ground black pepper
Directions
In a large bowl, toss together the kale, celery, carrot, and red onion. Sprinkle in the sunflower seeds and cranberries.
In a half pint jar or small bowl with a lid, add all of the dressing ingredients. Seal with the lid and shake for 15 to 20 seconds until all ingredients are combined.
Just before serving, pour the dressing over the salad and toss to coat the salad.