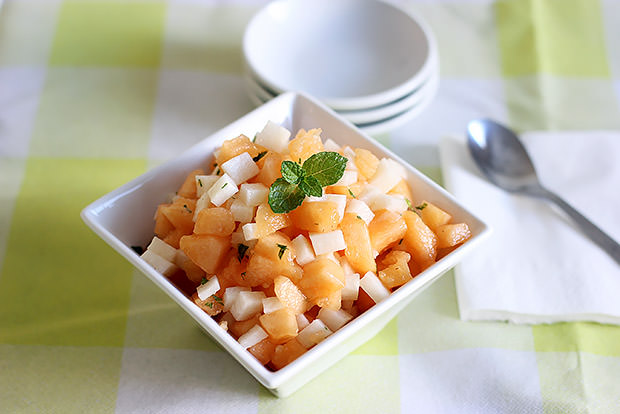 Jicama is a starchy root vegetable that adds a unique crunch to fresh salads. Low in calories and rich in vitamin C, jicama's mild flavor pairs well with sweet or savory ingredients.
Tips for the cook: Any type of melon can be used in this salad. Try a combination of cantaloupe, honeydew, and watermelon for a colorful presentation.
Nutrition Facts
Serving Size 1/2 recipe
Amount Per Serving
% Daily Value*
Trans Fat 0g
Sugars 5.5g
*
The % Daily Value (DV) tells you how much a nutrient in a serving of food contributes to a daily diet. 2,000 calories a day is used for general nutrition advice.
Yield: 5 servings
Preparation time: 15 minutes
Ingredients
1 1/2 cups cantaloupe, cubed
1 cup jicama, diced
1 tsp chopped fresh mint
Juice of 1 lime
1 tsp honey
Pinch of salt
Directions
In a medium-size bowl, stir together the melon, jicama, and mint.
In a small dish, whisk together the lime juice, honey, and salt. Pour the dressing over the melon and jicama, and toss to coat. Serve immediately or refrigerate for up to 24 hours.