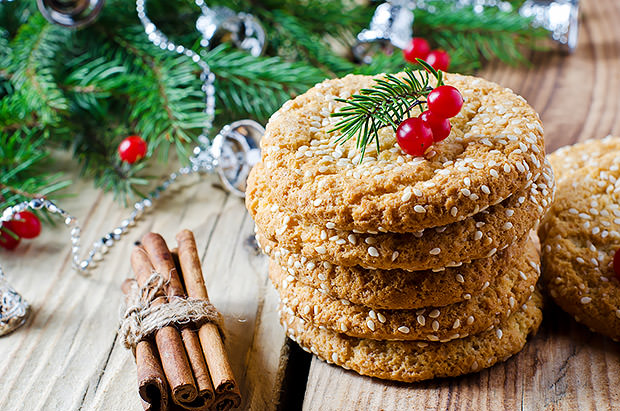 The holiday season is right around the corner, and now is the time to start planning so that the celebrations will not derail your fitness goals. Here are a few tips to help you stay on track.
Make a list of your favorite seasonal foods.
There are special holiday foods that you can't get any other time of year. Depriving yourself will only make you feel miserable and increase the chances that you will give up and overindulge. Instead, decide how you will incorporate these foods into a healthy eating plan. Make a list of your must-have foods and estimate when these foods will be available. When you plan for special treats, you can alter your food intake around this time so that you don't go overboard on unhealthy fat, sugar, or calories.
Set exercise goals.
Think about what the holiday season really looks like for you. You might be someone with few commitments, who only needs to alter your exercise routine for light travel right around the holidays, or you might be a person with a packed schedule from Halloween to New Year's. Plan your exercise accordingly and set goals for what you'd like to accomplish over the next two to three months. Make these goals achievable. It's okay to drop your workouts to three 30-minute sessions for a few weeks. Maybe home videos are a better option than a trip to the gym. Set an exercise goal for each week and incorporate healthy, non-food rewards for when you achieve each.
Draft a schedule of your regular commitments.
Most people attend the same parties year after year and travel to the same family reunion. Get these commitments on your calendar and include other tasks like gift shopping and baking. Next, add your exercise sessions to the calendar. Add some longer workouts in the weeks before you know things will get busy. Follow that up with a list of options for how you will stick to healthy eating throughout the coming weeks.
Prepare make-ahead meals.
Often the problem with the holiday season isn't that you indulge in high-calorie foods a day or two. It's when this pattern lasts for several weeks that the pounds pile on. Save your splurges for special occasions and prepare healthy meals to have available when you are too busy to cook. Most foods will stay fresh for up to two months in the freezer. Bean soups and stews, vegetable lasagna, vegetarian burgers, cooked poultry, and sauteed greens all freeze well and can be thawed for an easy, healthy meal when your schedule gets out of control.
Decide what you will skip.
It might be passing on the cookie tray in favor of a slice of pie, taking a break from an evening exercise class to squeeze in an early morning session, or eliminating a task that causes you stress every year. In order to enjoy a healthy holiday, you have to make trade-offs. Not having every dessert available will save you hundreds of calories. You may miss your regular workout group, but successfully completing your workout is better than skipping it at the last minute due to a schedule change. Some old traditions need to be let go to make room for new, healthier ones. Spend some time thinking about what you will cut out of your holiday season to make it healthier and happier.
Put the plan into action.
A healthy plan will do you no good if you fail to put it into action. Start now by making every meal a healthy one and sticking to your regular workouts. When the parties and commitments begin, you will have several weeks of healthy habits established going in. Use your calendar, set reminders on your smartphone, and ask friends and family for support. All of these steps will make a healthy holiday a natural part of your lifestyle.