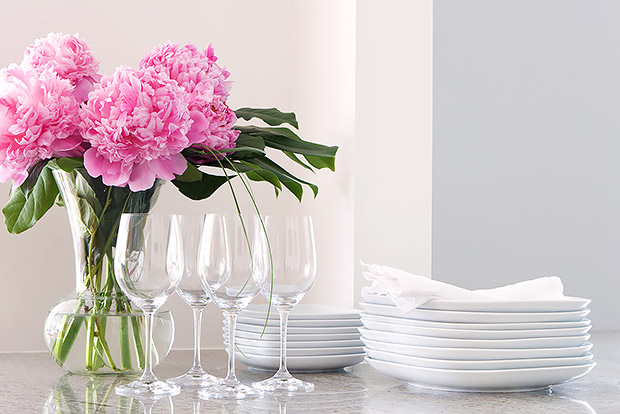 Mindless eating and drinking as you mingle at a party can send your caloric intake through the roof. When you are the host, lead by example. Follow these tips to throw a healthy party without sacrificing the fun.
Serve a meal.
Offering a variety of finger foods encourages people to try a little of everything, which can lead to overeating. By having guests sit down to a full meal, you can help them avoid the temptation. A meal around the table will encourage conversation and define a beginning and end to eating for the event.
Offer smaller portions and more courses.
A meal spread over four courses feels elegant and allows you to serve smaller portions. Try cucumber cups filled with shrimp salad for an appetizer, a chilled gazpacho soup, an entrée of fish or chicken with fruit salsa and roasted vegetables, and a small portion of a decadent cake for dessert.
Have guests make their meal.
Take some pressure off yourself and let your guests assemble their meals. Create a fun taco, pasta, or salad bar with grilled meats, vegetables, and fresh toppings. This approach encourages creativity and provides the benefit of having a meal instead of snacks. With lots of healthy toppings, your guests will have the option to make nutritious choices.
Offer a variety of drinks and mixers.
Fancy, signature cocktails are fun, but most mixers are high in calories. You don't have to cut out the alcohol, but provide a variety of light beers and use club sodas and flavored waters as mixers.
Don't get overwhelmed.
Keep each course simple, and choose foods you can prepare beforehand.
Make health a side note.
The goal is to make healthy parties the norm and not the exception. After a party like this, guests will realize they aren't missing out on anything except the calories.