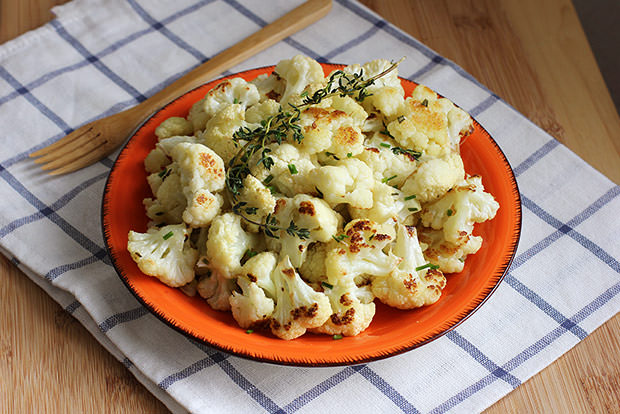 Cauliflower is a member of the cruciferous family of vegetables. Cruciferous vegetables are associated with reduced risks of cancer and heart disease, and they are loaded with vitamins, minerals, and beneficial phytonutrients. This easy recipe results in a nutritious side dish for grilled fish, baked chicken, or veggie burgers.
Nutrition Facts
Serving Size 1/4 recipe
Amount Per Serving
% Daily Value*
Trans Fat 0g
3%
Total Carbohydrate
7.8g
Sugars 3g
*
The % Daily Value (DV) tells you how much a nutrient in a serving of food contributes to a daily diet. 2,000 calories a day is used for general nutrition advice.
Yield: 4 servings
Preparation time: 10 minutes
Cooking time: 20 minutes
Ingredients
1 medium head of cauliflower, cut into small florets
1 tbsp olive oil
1 tbsp chopped fresh chives
1 tsp chopped fresh rosemary leaves
1 tsp chopped fresh thyme leaves
½ tsp garlic powder
¼ tsp salt
1/8 tsp ground black pepper
Directions
Preheat the oven to 425 degrees Fahrenheit. Spray a baking sheet with olive oil or non-stick cooking spray.
Place the cauliflower florets in a large bowl. Add the olive oil, chives, rosemary, thyme, garlic powder, salt, and pepper. Stir to coat the cauliflower evenly with the oil and herbs.
Spread the florets into a single layer on the baking sheet. Bake for 10 minutes.
Remove from the oven. Carefully stir the florets and spread them back into a single layer. Bake for an additional 10 minutes or until tender. Serve warm.