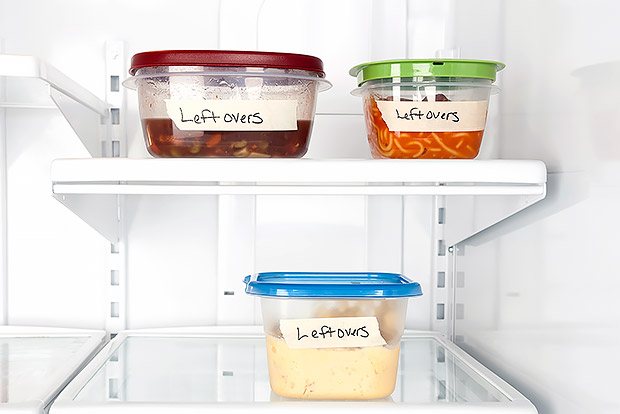 Properly using leftovers is a great way to increase the efficiency of home cooking. A big slow cooker of pinto beans can be stretched for use as a hearty lunch, the filling for breakfast burritos, and a side dish for tacos later in the week. When using leftovers, it's important to be concerned about food safety because many people overestimate how long properly stored leftovers will last. Consuming leftovers beyond their "safe date" increases the risk for foodborne illness.
Always refrigerate leftovers as soon as possible, making sure that they don't stay at room temperature for more than 2 hours. (This time limit drops to 1 hour in hot weather.) Ensure that your refrigerator is set below 40 Fahrenheit; otherwise bacteria can multiply quickly in the food.
Label each container with the date so that you don't forget when it was prepared, and always throw it out if there is any question concerning its safety. It's better to be safe than sorry and sick. The lifespan of leftovers varies depending on the type of food. Refer to the information below when determining if the leftovers in your fridge are still safe to eat.
Cooked Seafood 1-2 days

Fruit and Cream Pies 2-3 days

Cooked Beef, Ham, Pork, Poultry, Fish and Meat Casseroles 3-4 day

Cooked Fresh Vegetables 3-4 days

Soups, Stews & Sauces 3-4 days

Pizza 3-4 days

Homemade Dips 3-4 days

Cooked Pasta 3-5 days

Pre-packaged Lunch Meats (opened) 3-5 days

Baked Muffins 7 days

Cooked Rice 7 days

Hard Cooked Eggs 7 days

Hot Dogs (opened) 7 days
Food safety information from the Academy of Nutrition and Dietetics, the U.S. Food and Drug Administration, and the University of Idaho