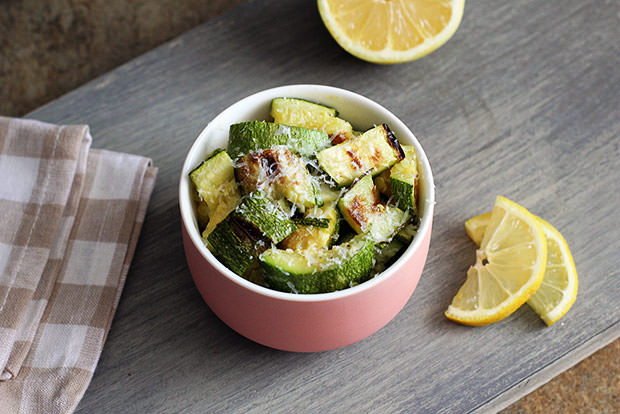 Zucchini is rich in antioxidants and fiber. In this recipe, the zucchini takes on a smoky flavor that pairs perfectly with your cookout favorites.
Nutrition Facts
Serving Size 1/4 recipe
Amount Per Serving
% Daily Value*
Trans Fat 0g
2%
Total Carbohydrate
6.4g
Sugars 3.1g
*
The % Daily Value (DV) tells you how much a nutrient in a serving of food contributes to a daily diet. 2,000 calories a day is used for general nutrition advice.
Yield: 4 servings
Preparation time: 10 minutes
Grilling time: 15 minutes
Ingredients
1 ½ lbs. zucchini
1 tbsp olive oil
2 tbsp freshly grated Parmesan cheese
2 tsp fresh lemon juice
1 tsp lemon zest
1/8 tsp salt
1/8 tsp ground black pepper
Directions
Trim the ends of the zucchini. Cut horizontally into 1/4 to 1/2 inch thick slices. Drizzle the slices with the olive oil and toss to coat evenly.
Grill the zucchini over medium-high, direct heat for 6 to 7 minutes on each side or until browned and tender.
While the zucchini cooks, add the Parmesan cheese, lemon juice, lemon zest, salt, and pepper to a medium bowl.
Remove the zucchini from the grill, place on a cutting board, and chop into bite-size pieces. Add the zucchini to the bowl and toss to coat. Serve warm or at room temperature.