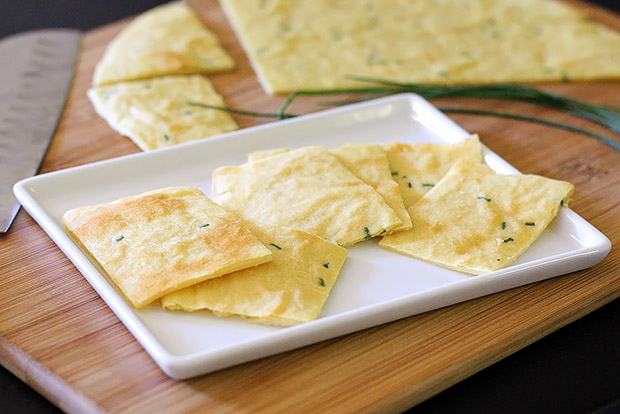 Chickpea flatbread is a popular street food in southern France, where it goes by the name socca. It's packed full of protein thanks to the chickpea flour, and you can create unique versions with herbs and seasonings. You can eat it alone, use it as a wrap, top it with your favorite spread, or use it as the base for a healthy pizza.
Nutrition Facts
Serving Size 1/2 flatbread
Amount Per Serving
% Daily Value*
Trans Fat 0g
4%
Total Carbohydrate
13.4g
Sugars 2.5g
*
The % Daily Value (DV) tells you how much a nutrient in a serving of food contributes to a daily diet. 2,000 calories a day is used for general nutrition advice.
Yield: 2, 12-inch flatbreads (4 servings)
Preparation time: 35 minutes (includes 30 minutes for the batter to rest)
Baking time: 10 minutes
Ingredients
1 cup chickpea flour
1 cup water
1 tbsp + 1 tsp extra virgin olive oil
½ tsp chopped fresh chives
¼ tsp salt
1/8 tsp garlic powder
Directions
In a medium-size bowl whisk together the chickpea flour, water, 1 tablespoon of olive oil, chives, salt, and garlic powder. Set aside to let the batter rest for at least 30 minutes or up to 2 hours.
About 10 minutes before you are ready to cook the flatbread, move the top rack in your oven 6 to 8 inches below the broiler. Preheat the broiler.
Place a 12-inch skillet (cast iron works great for this flatbread) in the oven to heat for 5 minutes. Carefully remove it from the oven and add 1 teaspoon of olive oil. Move it around to coat the skillet.
Pour half of the batter (about ¾ cup) into the skillet. Tilt the skillet so that the batter coats the bottom of the pan evenly. Place under the broiler for 4 to 6 minutes, or until the edges begin to crisp and turn up, and the top of the flatbread begins to brown.
Use a spatula to remove the flatbread from the skillet. Repeat the process for the second flatbread. (Only add a little more olive oil if the skillet appears dry.) Slice and serve warm.