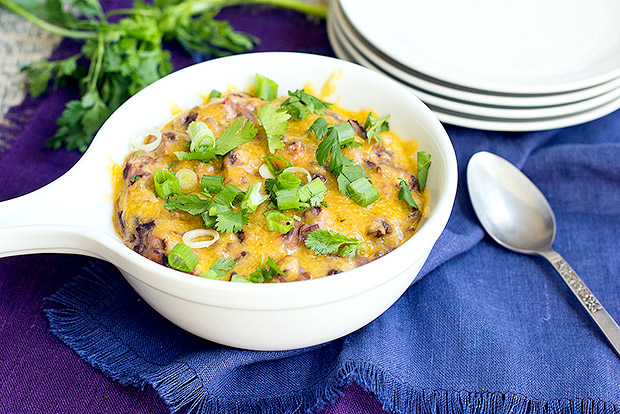 This easy bean dip is loaded with black beans for protein and fiber. Ricotta cheese adds more protein and makes it creamy without the need for high-fat sour cream. It's topped off with just a little shredded cheddar to add more flavor. While it's great with baked tortilla chips, you can make it an even lighter snack by using it as a dip for sliced vegetables like carrots, celery and cucumbers.
Nutrition Facts
Serving Size 1/6 recipe
Amount Per Serving
% Daily Value*
Trans Fat 0g
4%
Total Carbohydrate
11.4g
Sugars 1.1g
*
The % Daily Value (DV) tells you how much a nutrient in a serving of food contributes to a daily diet. 2,000 calories a day is used for general nutrition advice.
Yield: 6 servings
Preparation time: 10 minutes
Baking time: 20 minutes
Ingredients
1 (15 oz.) can no-salt-added black beans, rinsed and drained
½ cup prepared salsa
¼ cup part skim ricotta cheese
¼ tsp garlic powder
¼ tsp ground cumin
1/8 tsp fine ground sea salt
¼ cup shredded cheddar cheese
2 green onions, sliced
2 tbsp chopped fresh cilantro
Directions
Preheat the oven to 375 degrees Fahrenheit.
Place the beans in a medium bowl and use a potato masher to mash the beans until they are combined, but still chunky.
Stir in the salsa, ricotta cheese, garlic powder, cumin and salt. Transfer the dip to a 3 to 4 cup baking dish that has been sprayed with non-stick cooking spray. Sprinkle the cheese over the dip.
Bake for 15 to 20 minutes, until the cheese is melted and the dip is bubbling. Remove from the oven and let sit for 5 minutes. Sprinkle with the green onions and cilantro, and serve warm.