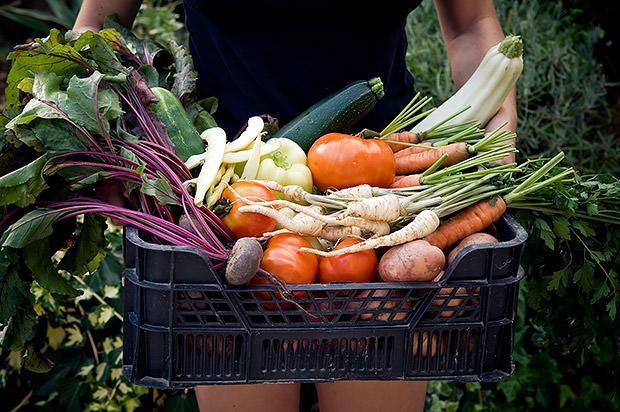 A Community Supported Agriculture (CSA) program is one way to get fresh, nutritious food while also benefiting the local economy. Whether you live in the city or the suburbs, the answers to the following questions will help you determine if a CSA is right for you.
What is a CSA?
Think of a CSA program as a membership to a food-of-the-month club. You pay a set amount to a farmer, and a box of farm-fresh produce, meats, and eggs is yours throughout the growing season.
Each CSA program is a little different. Many people prefer a subscription, or farm-directed, CSA. In these programs, the farmer grows the food, and you pay for the food you receive. Other CSA programs are operated by shareholders or offer work shares so you can trade work on the farm for your food.
The growing season for your area and the foods provided by the farm will determine which foods you will get and when you will get them. The amount of food and pick-up schedules vary as well. You may find a year-round CSA with produce available for a family of four delivered every two weeks or one that provides food for two that requires pick up at a designated location each week from May through October.
Why choose a CSA?
As a CSA member, you are supporting a local producer and providing sustainable income for local food production. When you know the source of your food, you can learn how it is grown, and you gain better control over what you feed your family. Participating in a CSA will give you foods similar to those offered at a Farmer's Market, but CSA members often pay less for these foods.
What's the risk?
When paying for a CSA membership, you are also absorbing some of the risks associated with farming and the growing season. Crops do better in some years than others, and your CSA box will reflect that. You may have expected a lot of potatoes, but you may get more cabbage and carrots instead.
This risk is not without benefit. Many view their CSA box as a challenge to their cooking skills and their taste preferences. You will be introduced to new foods, and you will learn how to prepare them.
How can a CSA benefit my health?
Foods that come in your CSA box are often picked at peak ripeness and travel short distances, which help to preserve nutrient content. The Community Food Security Coalition also reports that practical experience with fresh food (such as understanding seasonality and cooking) can have a positive effect on eating habits.
How can I find a CSA?
The availability of CSA programs is growing in both urban and rural areas. Many vendors at your local farmer's market may also offer CSA programs. In addition, Local Harvest provides a database of over 40,000 farmer's markets and CSA programs in the United States.