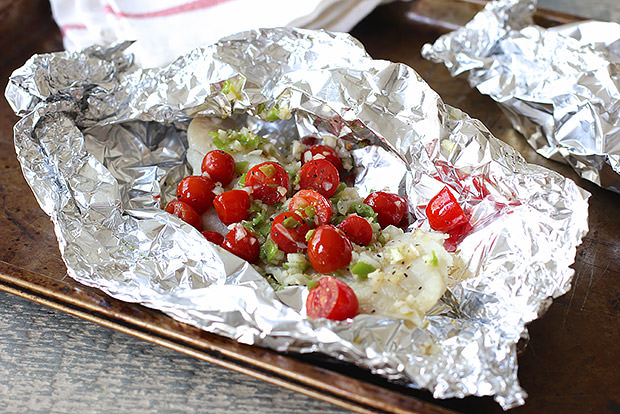 Fish is a high-quality source of lean protein and heart-healthy fat. Baking fish in foil packets with flavorful fresh vegetables allows you to make a quick meal with easy clean-up. Pair it with a salad and a side of quinoa or brown rice for a balanced meal.
Nutrition Facts
Serving Size 1/4 recipe
Amount Per Serving
% Daily Value*
Trans Fat 0g
2%
Total Carbohydrate
6.7g
Sugars 2.7g
*
The % Daily Value (DV) tells you how much a nutrient in a serving of food contributes to a daily diet. 2,000 calories a day is used for general nutrition advice.
Yield: 4 servings
Preparation time: 10 minutes
Baking time: 20 minutes
Ingredients
4 white fish fillets (such as tilapia)
1 cup halved small cherry or grape tomatoes
1/3 cup finely diced green bell pepper
¼ cup minced sweet onion
2 cloves garlic, minced
2 tbsp olive oil
¼ tsp salt
¼ tsp ground black pepper
Directions
Preheat the oven to 425 degrees Fahrenheit.
Lay four 12x16-inch pieces of aluminum foil on a flat work surface. Place a piece of fish in the center of each piece of foil.
In a medium bowl, stir together the tomatoes, bell pepper, onion, garlic, olive oil, salt, and pepper. Top each piece of fish with an equal amount of vegetables.
To seal each packet, turn the piece of foil so that the 16-inch side is horizontal. Fold the right and left ends toward the center to meet each other. Roll the foil down two to three turns to seal the two sides. Grab each of the open ends and roll towards the center to create and seal the packet.
Place on a baking sheet and bake for 15 to 20 minutes, until the fish begins to flake and the vegetables are softened.