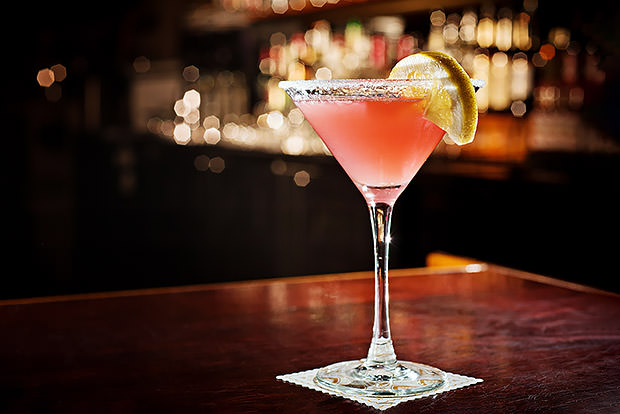 Living a healthy lifestyle doesn't mean that you have to cut out all special occasions. It's okay to responsibly enjoy happy hour with friends and coworkers from time to time. When you do, aim to join the fun without disrupting your progress.
Know the facts.
Before you decide to gather for a drink, it's important to understand how alcohol impacts weight loss. Not only do alcoholic drinks add calories, they can affect how efficiently you burn body fat, and they can also stimulate appetite. Understanding how alcohol can interfere with reaching your goals will help you make healthier choices and prevent the risk that you will overdo it on drinks.
Order a classic.
Fruity cocktails and drinks mixed with regular soda typically contain loads of calories and simple sugars. If you want a cocktail, stick with the classics. Traditional daiquiris, martinis, and spirits mixed with club soda allow for a cocktail without the cost of blowing your daily calorie budget. Order a classic martini instead of a cosmopolitan and you will save 70 calories or more.
Stick with smaller portions.
Many craft breweries and tasting rooms provide options for smaller portions that can help you stick to your plan. Order a half pint or tasters of beers for less volume and fewer calories.
Seek out session beers.
Estimating the calories in beer can be difficult, but generally when the alcohol content increases, so do the number of calories. Fortunately, session beers provide a lighter option. Session beers are less than 5 percent ABV (alcohol by volume). For example, a session IPA contains roughly 130 calories compared to 180 calories for a regular IPA and 230 calories for an imperial IPA.
Pick wine over sangria.
Stick with plain wine instead of sangria. A five-ounce glass of Merlot contains about 115 calories. Sangria is made with wine, but many varieties have added fruit juice, syrups, liqueurs, and some even contain flavored sodas like ginger ale. All these additions cause the calories to soar to over 200 for one glass.
Work in water.
Alcohol is dehydrating so keep your water intake up even if you only have one drink. Drink a glass of water before or after your cocktail. Dehydration can zap your energy levels making you feel sluggish and unmotivated for tomorrow morning's workout.
Select the snacks.
Consuming alcohol lowers inhibitions and makes mindless snacking easier. If your table decides to order a few bar bites, take charge of the situation and order some healthier items. Check for options like grilled chicken satay, sautéed shrimp, or lettuce wraps. If none of the offerings meet your healthy eating plan, order a side salad or a cup of broth-based soup. Ignoring your hunger will only make you cave in when the high-calorie appetizers get passed around the table.