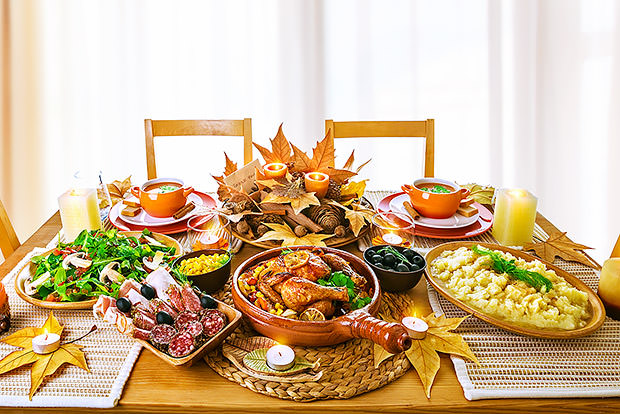 The holidays are meant to be celebrated with delicious foods, but too much celebrating can derail your fitness goals. These simple tips will help you lighten up your holiday favorites.
Go Heavy on the Herbs and Spices
It's easy to turn to butter, cream, and salt to flavor food. While these ingredients in moderation can fit into a healthy diet, you can save yourself hundreds of calories by turning to herbs and spices for flavor. Fresh thyme, rosemary, and a little garlic mixed into mashed potatoes can help you reduce the salt and butter while still keeping it delicious. For sweeter dishes, like sweet potatoes or cranberry sauce, add cinnamon, clove, nutmeg, and allspice. The more flavorful the dish, the less sugar or butter you will need to add to make it satisfying.
Keep Things Simple
The more options that are available, the more foods you will want to try. Pick a few favorites and keep it simple. Despite the fact that these foods may be higher in calories, you can still follow a healthy eating plan when it comes to nutrients and food groups. Make sure you have protein, complex carbohydrates, healthy fat, and plenty of vegetables. Serve appropriate portion sizes to limit calories. Also, cut fat and calories by keeping preparations simple. Roasted root vegetables and dark leafy greens are the perfect side dishes for a holiday meal. Balance healthy, simple recipes with heavier holiday favorites.
Make Easy Swaps
There are simple swaps you can make that will save calories, sodium, and saturated fat. If you snack on nuts with pre-dinner cocktails, add in some unsalted, raw varieties. For recipes that call for butter when sautéing, try substituting half or all of it with olive oil. Add pureed fruits like banana, applesauce, or fresh pineapple to naturally sweeten recipes like sweet potato casserole, cranberry sauce, or baked goods like muffins. Use whole grain bread in stuffing and choose whole-grain rolls. When making cream sauces, try substituting the cream with unsalted chicken or vegetable stock. They will thicken in a similar way, and once it's mixed into casseroles, it's difficult to tell the difference.