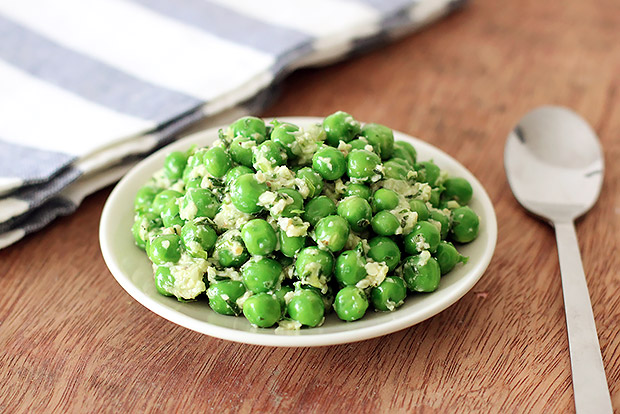 Peas are a source of plant-based omega-3 fatty acids as well as manganese, folic acid, fiber, and vitamin B6. In this recipe, fresh peas are quickly blanched to retain their crisp texture and then mixed with a seasonal pesto made with basil, green onions, and walnuts.
Nutrition Facts
Serving Size 1/2 cup
Amount Per Serving
% Daily Value*
Trans Fat 0g
4%
Total Carbohydrate
12.2g
Sugars 3.8g
*
The % Daily Value (DV) tells you how much a nutrient in a serving of food contributes to a daily diet. 2,000 calories a day is used for general nutrition advice.
Yield: 4 servings
Preparation time: 15 minutes
Cooking time: 5 minutes
Ingredients
20 large, fresh basil leaves
2 cloves garlic, chopped
2 green onions, white and green portions chopped
1/4 cup chopped walnuts
2 tbsp grated Parmesan cheese
2 tbsp extra virgin olive oil
1/8 tsp salt
1/8 tsp ground black pepper
2 cups fresh spring peas
Directions
In a small food processor, add the basil, garlic, onions, walnuts, and cheese. Pulse four to five times, until the basil and vegetables are chopped. Pour in the olive oil, and add the salt and pepper. Pulse until all ingredients are finely chopped and resemble a spread. Set aside.
Bring 3 cups of water to a boil in a medium-sized saucepan. Meanwhile, prepare a medium-sized bowl with 3 cups of ice water. Once the water in the saucepan boils, add the peas and cook for 60 seconds.
Remove the peas from heat, and drain them through a colander. Transfer the peas quickly to the cold water for 30 seconds. Pour the peas back into the colander to drain the cold water.
Transfer the peas to a medium bowl and add the pesto. Stir to coat the peas in the pesto. This dish can be served warm, room temperature, or cold.