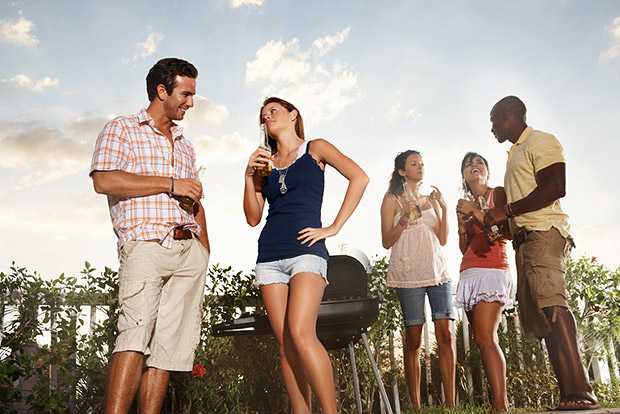 Sticking to your plan during the week and splurging on the weekend can put you in a weight-loss-then-weight-gain cycle that prevents you from reaching your goals. Learn more about why the weekend can wreck your efforts, and apply these simple changes to avoid setbacks.
Weekend weight gain is not a myth.
Research has found that adults increase their intake of calories, fat, and alcohol on weekends. One study reported that we increase our intake by an average of 115 calories per day on Friday, Saturday, and Sunday. A separate study found that weight gain occurs on weekends primarily due to an increase in caloric intake on Saturdays and a decrease in physical activity on Sundays.
Why the weekend gets you off track.
A regular routine throughout the week provides a structure for planning meals and scheduling exercise. While it can be difficult to find time to exercise during the week, your busy schedule also keeps you distracted, which reduces the boredom that leads to unnecessary snacking.
The weekend brings a relaxed attitude and social events that center around eating. In addition, after a week of hard work you probably feel like you deserve a treat. You do, but focusing on non-food rewards or those that get you moving will prevent weekend weight gain.
Simple changes for weekend weight loss.
Here are a few things you can do to reduce weekend weight gain and promote weight loss.
Avoid saving treats for the weekend. If you deprive yourself of your favorite treats all week, you increase the likelihood that you will overdo it on the weekend. Incorporate a few of your favorite foods such as dark chocolate or a light beer into your eating plan throughout the week.
Rework your exercise schedule. You need the extra calories burned on the weekends so plan fun exercise sessions and take your rest day on Monday. If your exercise feels too much like work, weekend exercise with the reward of a rest day during the week can make it more enjoyable.
Cook with friends instead of dining out. Spending time with friends doesn't require a high-calorie, high-priced dinner. Enjoy conversation as you cook a healthy meal together.
Plan for parties. If you know you have an event coming up, cut back during the day so you can enjoy the piece of cake you crave. Make only one trip to the buffet, and take small portions. Dancing is a great way to burn calories, so if the music is going, get out on the dance floor!