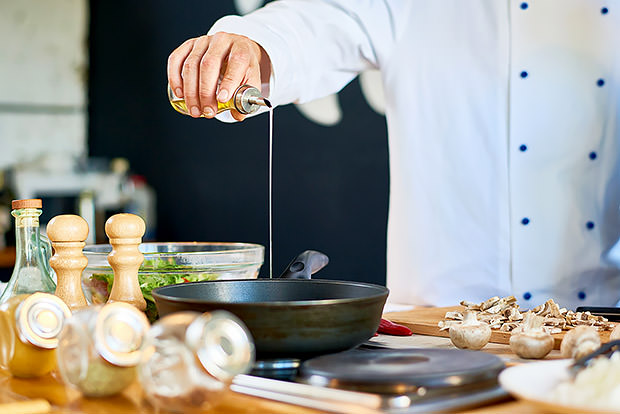 Reduce oils to save 120 calories per tablespoon
Cooking more of your own food is one way to control what you eat. When you know how much salt, fat, and other ingredients are added, you can better track your intake to meet your fitness goals. While healthy cooking isn't as complicated as it may seem, it is easy to fall into a few traps. These cooking mistakes may affect your view of healthy foods and prevent you from maximizing the nutritional value of your meals.
You don't experiment with reducing cooking oil
Follow the recipe the first time you prepare a dish. If it becomes a favorite, try experimenting. Many stovetop recipes for sautéed vegetables use two tablespoons or more of oil. While sometimes this is necessary, other recipes cook just fine with less, which will save you 120 calories per tablespoon you are able to reduce.
You salt before you taste
Many recipes save adding the salt for the final step, after the food is fully cooked. Do you toss in all the salt before giving it a taste? Everyone's preferences for salt are different, and as you decrease your sodium intake, it's likely that your taste buds will be happier with much less. Try adding half the salt suggested by the recipe, and then taste the food. You may find that extra salt isn't necessary.
Your oven overbakes
Sometimes the reason you don't like a food is simply because it has been prepared incorrectly. Fish can easily overbake and become tough, roasted vegetables can cook unevenly, and cakes using fruit purees in place of fat or alternative flours can dry out. By getting to know your oven, you can work around these obstacles to make healthy foods that taste delicious. Calibrate your oven temperature and identify hot spots that tend to overcook food. You can learn to lower temperatures when necessary and rotate pans to always get the best results.
You don't weigh and measure
Unlike baking, cooking doesn't always require an exact balance of ingredients, but a little too much freedom in your technique could mean extra calories. Adding oils and sauces to pans without measuring, not portioning out an appropriate serving of pasta, and tossing in extra toppings like nuts and seeds can cause your final dish to contain more calories than listed by your recipe. Use your measuring tools to ensure you don't turn an otherwise healthy dish into a high-calorie meal.