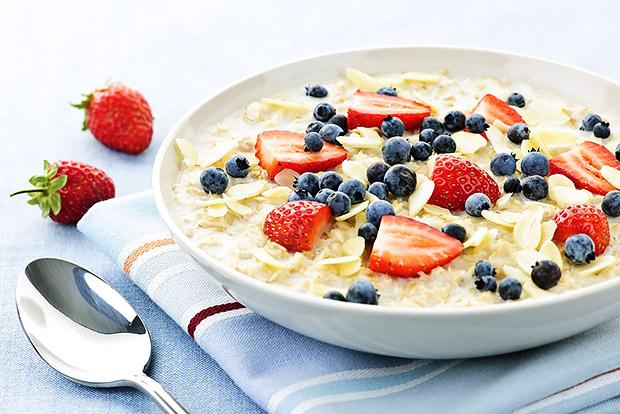 Breakfast is often eaten on-the-go. As a result, it's often lacking the necessary balance of nutrients to keep you healthy and satisfied. A nutritious morning meal that is quick and convenient can be a challenge, but by planning ahead and incorporating these tips you can eat a balanced breakfast.
Make protein a priority.
Adding more protein to your morning meal will keep you feeling full longer. Make a breakfast sandwich with egg and a lean meat like Canadian bacon or a black bean patty. Breakfast burritos can be pre-made and reheated throughout the week. Fill them with high-protein ingredients like beans, scrambled eggs, or tofu. Add nuts and seeds to cereals and yogurt. Mix nut butters, yogurt, or cottage cheese into smoothies.
Choose fiber-rich grains.
Fiber helps to lower blood cholesterol and stabilize blood sugar. It also helps you feel full, causing health experts to believe it may aid in weight control. Choose whole grain breads, muffins, tortillas, and cereals to boost fiber intake.
Add fruits and vegetables.
Fruits and vegetables contain fiber and healthy plant nutrients. Adding more to your breakfast can be as simple as blending frozen mango or fresh spinach into smoothies. You can also get creative by adding finely chopped broccoli or cauliflower to breakfast burritos. Top breakfast sandwiches with arugula and tomato slices.
Limit sugar.
Sugar adds empty calories to your day, and causes a spike in blood sugar that can zap energy and increase hunger. It's especially important to watch sugar intake at breakfast because so many common breakfast foods are loaded with it. Smoothies, yogurt, oatmeal, and coffee drinks can all contain added sugar. Add fresh fruit to plain yogurt and oatmeal, ask for less syrup in coffee drinks, and read nutrition labels closely to help control your sugar intake.