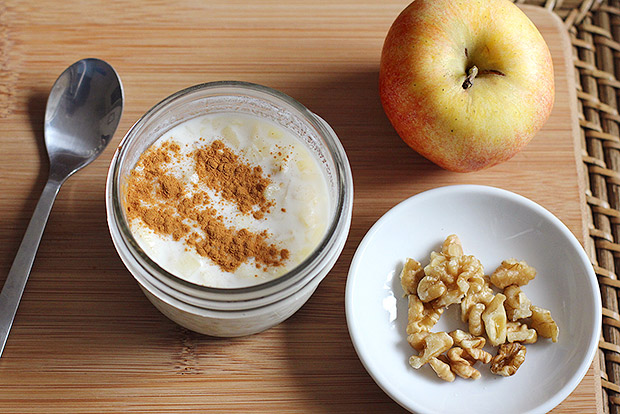 Soaking oats overnight is an easy way to have a quick and healthy breakfast ready to go first thing in the morning. The milk and yogurt create a creamy cereal that is delicious straight out of the refrigerator.
Tips for the cook: Any type of milk, yogurt and fruit can be used in your oats. Stir fruits that brown easily (apples, bananas) into the oatmeal. Berries and stone fruits can be placed on top of the oats before sealing and refrigerating. Save crunchy toppings like nuts or seeds to add just before serving so that they don't soften overnight.
Nutrition Facts
Serving Size 1 recipe
Amount Per Serving
% Daily Value*
Trans Fat 0g
13%
Total Carbohydrate
37.7g
Sugars 10.6g
*
The % Daily Value (DV) tells you how much a nutrient in a serving of food contributes to a daily diet. 2,000 calories a day is used for general nutrition advice.
Yields: 1 serving
Preparation time: 5 minutes
Refrigeration time: 8 to 12 hours
Ingredients
¼ cup steel cut oatmeal
1/3 cup low fat milk
2 tbsp honey or vanilla flavored Greek yogurt
¼ of a small apple, peeled and diced
Optional topping ideas: cinnamon, nutmeg, walnuts, pecans, sunflower seeds
Directions
In a small bowl or jar, stir together the oatmeal, milk, yogurt and apple. The oats will expand so be sure the bowl holds at least 1 cup. Seal with a lid and refrigerate for 8 to 12 hours overnight.
Stir before serving, and add toppings if desired.