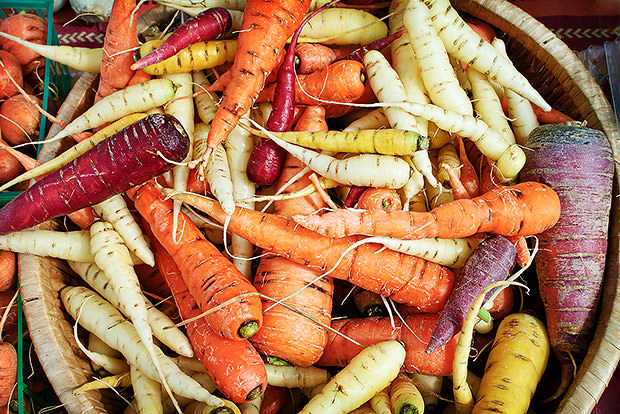 Full of Nutrients
People often pass on root vegetables thinking the category is reserved for starchy, high-calorie foods. That is rarely the case and these delicious options are proof of the wide variety of nutrients root vegetables supply.
Jicama is a crisp and refreshing vegetable that is rich in fiber and vitamin C. It is often eaten raw, which helps to preserve its valuable vitamin C content.
Kohlrabi is a cruciferous vegetable that provides the same glucosinolates more commonly associated with broccoli and cauliflower. Glucosinolates have been found to protect against cancer.
Radishes are a crunchy, spicy root vegetable that are rich in vitamin C. Like jicama, they are often eaten raw, preserving the vitamin content.
Rutabaga is often described as a sweeter, denser version of a turnip. It provides fiber, potassium, vitamin A, and vitamin C.
Parsnips have a similar shape and texture to carrots. They are a source for fiber, folate, and manganese.
Winter Access and Long Storage
As the temperatures drop in fall and winter, the availability of fresh foods can become limited. Root vegetables are an ideal option to keep your intake of fresh, nutritious produce going year round. Most varieties also have an extended storage life, making it easy to stock up so that you can use them throughout the season. Root vegetables are best stored at 50 degrees Fahrenheit in a space with controlled humidity, such as a root cellar, garage or basement.
Easy to Cook
Jicama and radishes have a crisp texture that is delicious when eaten raw. Try slicing them to top fresh salads or shred to add to slaw. When sliced thick or cut into sticks, they also make good dippers for salsa, guacamole, and hummus.
Root vegetables like kohlrabi, rutabaga, and parsnips get sweeter when they are cooked. Chop them into equal pieces, toss with olive oil and spices and roast at 400 degrees Fahrenheit for 30 to 40 minutes, or until tender. Another option is to shred them and stir them into muffin and cake batters before baking. They can also be steamed until soft and then pureed into a mashed side dish.
Sources