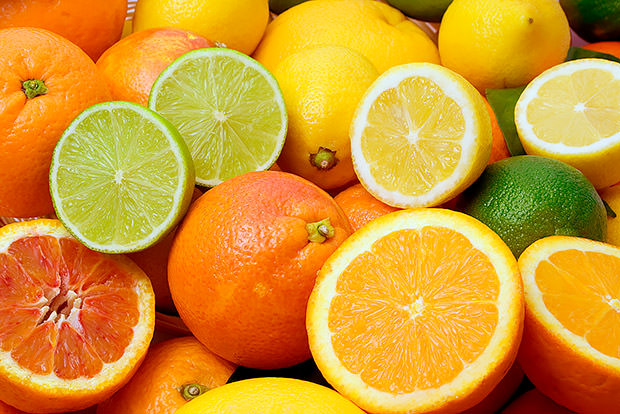 Loaded with vitamins and minerals.
The vitamin C in citrus fruits acts as an antioxidant to protect cells from free radical damage. Vitamin C also improves the absorption of non-heme iron (iron from plant foods like beans and nuts). Citrus fruits supply the B vitamin, folate, which plays a role in energy production, growth and development, and may help protect against heart disease. These fruits are also a source of potassium, which is important for muscle function, and fluid and electrolyte balance.
Unique phytonutrients.
Citrus flavanones have been linked to a reduced risk of stroke in women and a reduced risk for cardiovascular disease. Liminoids in citrus fruits have been found to inhibit tumor growth. More research is needed to understand how these phytonutrients work to improve health and protect against disease. Many are found in the peel and inner white portions of the fruit, so eating whole fruits and using zest and peels as flavorings for cooking will help you get the most benefit.
Super easy snack.
There are few foods easier to grab on the go than a piece of citrus fruit. Oranges, mandarins, tangerines, and many cross-varieties are easy to pack, peel, and section for a snack. Peeling also slows you down and contributes to more mindful eating. Just remember that some citrus, such as grapefruit, can interact with prescription medications. Be sure to check with your doctor if you take medications, especially those to fight infections or treat high blood pressure, high blood cholesterol, or heart conditions.
Multiple uses.
Not only is citrus delicious by itself, but the whole fruit can be used in many meals and snacks. Homemade juices are more refreshing with fresh oranges, grapefruits, lemons, and lime. Fruit sections can be blended into smoothies. Lean meats and roasted vegetables are delicious with a splash of fresh juice and citrus zest. Dry the peels of oranges, lemons, or tangerines and add it to loose leaf tea before steeping.
Long storage.
Unlike many fruits that spoil quickly, citrus fruits have a long storage life so you can stock up when they are on sale and enjoy them throughout the season. When refrigerated, oranges and mandarins stay fresh about two weeks, lemons keep for four weeks or more, and grapefruits and limes keep even longer, often five to six weeks.
Sources