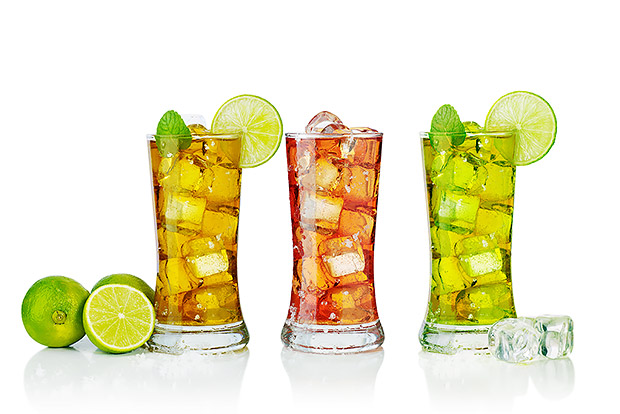 Replacing high-sugar soft drinks with low-calorie beverages is an easy dietary change that can impact your health in a big way. A 12-ounce soda contains 9 to 12 teaspoons of sugar. Extra-large drinks with nearly 48 ounces of soda contain 36 to 48 teaspoons of sugar. They also have 600 or more calories! It is easy to consume one-third to one-half of the calories your body needs on a daily basis through soft drinks alone. Choosing a lower calorie option will help you maintain a healthy weight.
One characteristic of soda that many people enjoy are the bubbles and fizz that come from carbonation. You don't have to give this up. There are many drinks that will satisfy your craving without the excess calories and sugar, or artificial sweeteners.
Carbonated waters come plain or lightly flavored with fruit essence, such as citrus or raspberry. Be sure to read labels and check for added sugar, artificial flavors, and sweeteners.
Reduce your use of plastic bottles, and purchase a home carbonator unit that allows you to carbonate water from your tap. This is an economical and environmentally friendly way to enjoy carbonated drinks. Add a slice of citrus fruit, or fruit essence flavors that can be purchased with the unit.
Spritzers are a great way to add variety. Mix one half carbonated water with one half fruit juice. Experiment with orange, grape, pineapple, grapefruit, and cranberry juices until you find a satisfying combination. Spritzers contain vitamins and half the calories compared to soda.
Juice mixed with shaved ice is another delicious option. There are many different snow cone makers and ice shavers available. Food processors and blenders can also pulverize ice cubes.
Tea is a good option if you are after a drink to quench your thirst, and do not want the carbonation. There are many varieties ranging from caffeine-free herbal teas to green and black teas. Enhance the flavor with a twist of lemon and mint leaves.
Creating a more exciting drink will make breaking the habit easier. Throw out the paper cups and treat yourself to a new set of brightly colored tumblers or elegant drinking glasses to celebrate your healthier drinks. You'll find it is much more satisfying to indulge in a nicely prepared drink than it is to pop open a sugary drink from a can.