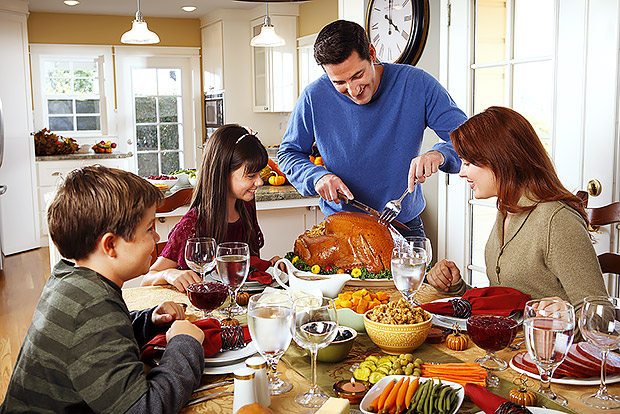 From late October through December, special foods and lack of exercise result in holiday weight gain. Studies suggest that adults gain as many as 5 lbs during the holiday season. This year, avoid ruining all of you hard work with these tips.
Start planning now.
The earlier you develop a strategy, the more successful you will be. Jot down annual parties and family commitments in your calendar. Take note of when you may need to cut back on calories to compensate for celebrations, and set a goal for the number of weekly workouts you will complete. As the season progresses, you will be prepared to make your healthy habits a priority.
Select your splurges.
You will be bombarded with high-calorie foods throughout the coming weeks. It's important not to go overboard, but it is also important to remember that this time comes only once a year. If you set out to deprive yourself of seasonal treats, you won't succeed. Plan to enjoy those treats you can only get this time of year. Limit yourself to small portions, and pass on the rest.
Use your slow cooker.
A busy afternoon of running errands makes a quick dinner from the drive-thru tempting. You can avoid this temptation with a little planning. Create a list of healthy slow cooker recipes that you prep in the mornings. If you have a hot meal waiting for you at home, you'll be less tempted to stop for unhealthy fast food meals.
Eat healthy foods for energy.
During the holidays, it's easy to skip healthy seasonal produce (such as kale, pumpkin and citrus) when you fill up on party appetizers, casseroles, and cookies. Using high-sugar, high-fat foods as your main energy source will have you ready for a nap, not a workout. Enjoy a treat, but don't allow the season to completely change your healthy eating patterns.
Order online.
If shopping is your excuse for skipping workouts, take your shopping to the Internet. Not only can you take care of your gift list, but you can use an online grocer to bring dinner ingredients straight to your door. You'll save time by avoiding the travel and long lines. Use the time you save for exercise and for planning your meals for the week.
Limit your to-do list.
Once you make your holiday to-do list, set it aside for a day or two, and then revisit it. Cut out everything that isn't absolutely necessary. For example, there will be plenty of sweets around. Do you really need to make all five types of cookies, or could you cut it down to four? This could save you at least 30 minutes on a day that you may have otherwise skipped your workout.
Schedule stress-reducing activities.
The holidays can be stressful. Exercise will help, but also consider taking a few minutes to step back from the hectic day and enjoy the moment. Your list may include deep breathing, reading a novel, prayer, mediation, playing with your children, a massage, or a bath. Schedule these short bouts of relaxation into each day to reduce stress throughout the season.
Shorten your workouts.
Research shows that shorter workouts can be as effective as longer sessions, if you step up the intensity. Save yourself time during the holidays and commit to 20 minute workouts. Add hills, speed, and strength intervals to your regular routine to challenge yourself and burn more calories.
Make exercise part of the celebration.
From Halloween to New Year's Day, nearly every city has a fitness event to commemorate the holiday season. Look for a night-time Halloween walk, a Turkey Trot, or a Jingle Bell Run. Local yoga studios often offer free classes this time of year, or check the gym for a holiday fitness challenge that will keep you on track with workouts.
Don't overlook the small stuff.
This is the time when the small things matter the most. Fit in every bit of moving that you can throughout your day. Park on the opposite end of the mall, add an extra flight of stairs, or do a mini-fitness routine each morning with 10 push-ups, 15 squats, and 20 crunches. Individually these activities don't burn a significant number of calories, but when combined they may help offset the cookie you couldn't pass up yesterday afternoon.