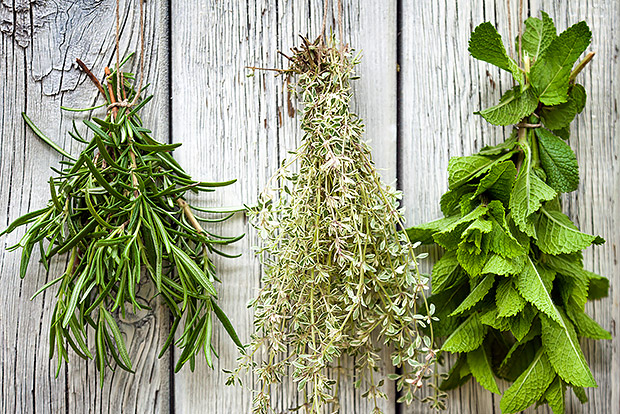 Herbs contain nutrients that improve health in unique ways. Some provide the anti-inflammatory benefits of aspirin, while others have the power to fight unhealthy bacteria. Start adding these herbs to your recipes today!
Basil
When you take a dose of ibuprofen or aspirin, these medicines block an enzyme to reduce inflammation. Research shows that the oils in basil can block these same enzymes. Basil also provides vitamin K, vitamin A, iron, and calcium.
Uses: Top pizza with fresh basil leaves before baking, add them to sandwiches, or thinly slice the leaves and sprinkle them over fresh tomato slices with salt and pepper.
Cilantro
Cilantro, also known as coriander, is a common ingredient in Mexican cuisine. Its bright green leaves and seeds are anti-bacterial. Research suggests that cilantro contains a compound that kills salmonella, a major cause of foodborne illness.
Uses: Add fresh cilantro leaves to salsa, tacos, dips, salads, and noodles.
Chives
With its pungent flavor, it is no surprise that chives come from the same group of allium vegetables and herbs as onions and garlic. They contain compounds that act as antioxidants, which can reduce cancer risks.
Uses: Add chopped chives to scrambled egg whites, pasta salads, potato salads, or to Greek yogurt for a vegetable dip.
Dill
Dill has antibacterial properties similar to those associated with garlic. It can also help protect against free radicals and the carcinogens found in grill smoke. This makes dill an ideal herb to pair with grilled foods.
Uses: Sprinkle chopped dill over fish, beef, or sautéed vegetables. It can be used in omelets or stirred into cucumber and tuna salads.
Mint
Mint is best known for its ability to soothe the digestive system, making it helpful for gastrointestinal disorders, such as irritable bowel syndrome. It also provides manganese, vitamin A, and vitamin C.
Uses: Add chopped mint to fruit salad, or drop a few leaves into your favorite berry smoothies. It also makes a good seasoning for beef and lamb.
Oregano
Oregano has the highest antioxidant content of herbs and even surpasses many fruits and vegetables. One analysis showed it contains four times the amount of antioxidants in blueberries.
Uses: Add oregano to homemade marinara sauce or tomato soup. Sprinkle minced leaves over pizza, and simmer bundles of oregano stems in soups and stews.
Parsley
Nutritious parsley should be added to your food, not just your plate as a garnish. Parsley provides vitamin A, vitamin C, and folic acid. Similar to dill, parsley's antioxidant activity may fight against carcinogens, such as those in grill smoke.
Uses: Stir chopped parsley into salads. Mix it into ground beef before making hamburgers, or sprinkle it on soups and stews before serving.
Rosemary
Rosemary is high in antioxidant activity, not far behind oregano. Several studies show that it can also fight the pathogens that cause foodborne illness, such as Listeria.
Uses: Add chopped rosemary leaves to marinades, or sprinkle on vegetables before roasting. Simmer stems of rosemary leaves in soups and stews.
Sage
The oils in sage have been found to reduce inflammation, which is common in those with rheumatoid arthritis and asthma. It is also rich in vitamin K, an important vitamin for bone health.
Uses: Add finely chopped sage to chicken salad or tomato sauce. Add a few sage leaves to fish and grilled vegetables.
Thyme
Thyme is both anti-microbial and rich in antioxidants. Its oils protect against microbes on fresh foods like lettuce. Thyme is also rich in iron, manganese, and vitamin K.
Uses: Add thyme leaves to marinades, salad dressings, pasta sauces, roasted vegetables, and beans.