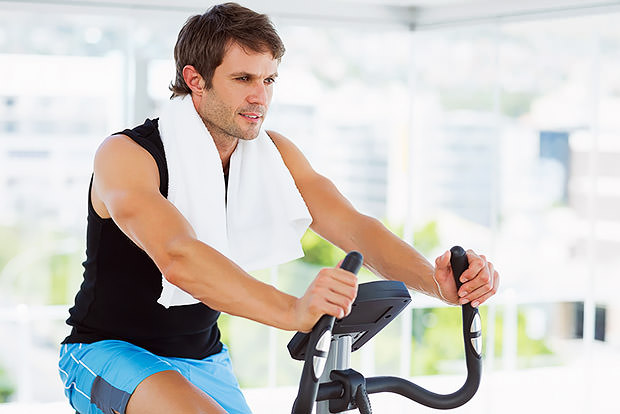 How the Warm-Up Works
A warm-up not only reduces your risk for injury. According to the American Council on Exercise, it also helps you burn calories more efficiently due to the increase in your core body temperature. As you gradually ease into movement, your muscles begin to heat up, which increases their elasticity. The blood vessels also dilate, which allows blood to move more freely, delivering oxygen to the heart and the muscles. Increased oxygen flow to the muscles facilitates a better supply of energy for exercise. Instead of experiencing a rapid increase in movement and heart rate, like what occurs when you go from no movement to intense exercise, a warm-up allows the body to prepare for the activity, improving exercise performance.
What to Do to Warm Up
As long as it gradually increases your heart rate and gets the muscles moving, any activity can be used as a warm-up. For strength training, it can be as simple as pedaling on a stationary bike with little resistance. If you are working out at home, try marching in place. Using the same activity you will do for your workout, but at a lower intensity, can also serve as a warm-up. For example, if you are going to run, start the course with a walk or a light jog. If you plan to swim, you can tread water or use a kickboard to take a few slow laps around the pool. Once your body is warm, increase the intensity or resistance and move on to your full workout.
How Long to Warm Up
The length of your warm-up can be influenced by the time of day, temperature, and type of exercise. As a general rule, your warm-up should last from 5 to 10 minutes. When you are preparing for a high-intensity workout, plan to do at least a 10-minute warm-up. Your body will benefit from the extra time to work up to a challenging pace. If you exercise first thing in the morning, you may also need a longer warm-up to help increase blood flow. This is also true when exercising in cold weather. It may take your muscles longer to warm up and improve elasticity to allow for easy movement. Once your heart rate has increased, you are breathing more heavily, and your muscles feel warm and flexible, move on to your workout.