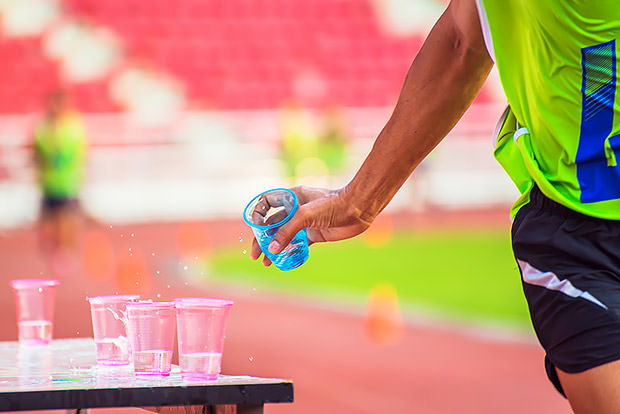 Hydration is always a concern during exercise, but it deserves special attention during the summer. Hot and humid weather can quickly turn thirst and fatigue into a dangerous situation and the need for medical attention. With a few simple steps and by paying attention to warning signs, you can stay safe and hydrated during your summer workouts.
Focus On Fluids
Drinking fluids hydrates cells and replenishes the fluid and electrolytes lost through sweat. Most health experts agree that water is sufficient to keep you hydrated when exercising at a moderate intensity for less than one hour. A sports drink that replenishes electrolytes can be beneficial when exercising for longer periods, at a high intensity, or in hot and humid weather.
According to the Mayo Clinic, drinking when you are thirsty is adequate for most healthy adults to stay hydrated throughout the day, but don't wait for thirst to start hydrating during exercise. The exact amount of fluid you need varies from person to person. The American College of Sports Medicine (ACSM) suggests monitoring both body weight and urine color to determine your hydration level. If your body weight fluctuates by one pound or less after exercise, and your urine is light in color, you are well hydrated.
After assessing hydration status, the ACSM suggests general guidelines for staying hydrated during your workout.
Drink 16-20 ounces at least four hours before exercise.
Drink 8-12 ounces 10-15 minutes before exercise.
During exercise, drink 3-8 ounces every 15-20 minutes.
After your workout, drink 20-24 ounces of fluid for every pound lost.
Other Factors in Hydration
During exercise, hydration is related to your sweat rate. Sweating is the body's way of cooling itself. The harder you exercise, or if you are exercising in a hot environment, the more your body is going to sweat and quickly become dehydrated. On hot days, work out in the early morning or in the evening when the sun is less intense and the temperature is cooler. Choose a route or location that is shaded. On days when the heat or humidity reach dangerous levels, take your workout indoors.
Wear light-colored clothing that will reflect sunlight and choose moisture-wicking fabrics. Clothing made of this material helps the sweat to evaporate, cooling the body. Thick fabrics like cotton can trap sweat, become heavy, and cause you to overheat.
Dangers of Dehydration and Overhydration
When your body loses more fluids than you take in, dehydration occurs. Aside from extreme thirst, the first sign of dehydration is often muscle fatigue. If you do not replenish fluids the symptoms of dehydration become more dangerous and include headache, muscle cramps, dizziness, confusion, and unconsciousness. If you suspect you are becoming dehydrated, take a break, go to a cooler environment, and drink fluids.
Unfortunately, dehydration is not the only concern when it comes to fluid balance. When you take in more fluid than your body is losing in sweat, or you take in too much water without replacing lost electrolytes, blood sodium levels drop. This condition, called hyponatremia, causes symptoms similar to, and as dangerous as, dehydration. The ACSM recommends not consuming more than one quart of fluid per hour during exercise to prevent overhydration.
Sources