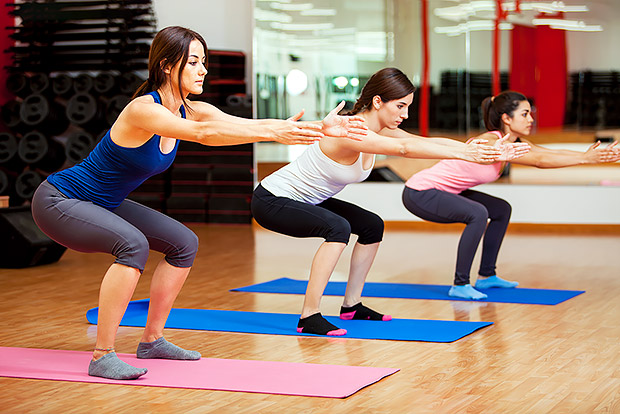 The knee is a complex and resilient joint that can absorb loads more than four times your body weight. Knees are used in almost every activity, which leaves them vulnerable to injury. This doesn't mean that avoiding activity is the best way to protect knees. Research shows that exercise helps prevent knee osteoarthritis by maintaining cartilage for healthy joints. The key is to keep knees safe during exercise to stay pain and injury-free.
Set things up.
Weight machines have adjustments so you can set the seat and levers according to your your height and the weight load according to your strength. Machines like the leg press, leg extension, and leg curl can stress the knee joint if not adjusted for your individual needs. Ask for an orientation on all gym equipment before getting started, and make a note of the settings so that you can adjust the equipment correctly yourself during each workout.
Use correct form.
Squats and lunges are notorious for causing knee pain when performed incorrectly. The general rule has always been to keep the knee from moving forward beyond the toes when squatting or lunging. According to the American Council on Exercise, new recommendations state that it's more important to hinge the hips by pushing them backward before lowering into the exercise position. The knees should align over the second toe so that the knee moves in the same direction as your ankle joint. Depending on height and limb length, for some people this may cause the knee to appear to move forward beyond the toes. For these individuals, this is considered a safe movement because keeping the knee further in can increase stress on the lower back.
Be selective about surfaces.
Hard surfaces like concrete can add stress to the knee joint during running, walking, and jumping. Move your workouts to softer surfaces to protect the knees. Tracks, dirt trails, grass, asphalt, and the treadmill all provide better shock absorption.
Know what you can handle.
Experienced athletes can perform exercises, such as deep knee bends or squats, without adding unnecessary stress to the knee joints. Problems arise when you attempt these exercises before you understand correct form and before you have built the necessary strength to handle the movement. If your goal is to perform more advanced exercises, seek the advice of a trainer to guide you through a program that will teach you proper form and gradually build your strength to meet your goals.
Wear quality shoes.
A quality pair of athletic shoes with good arch support helps with shock absorption and alignment, which protects the knees during exercise. Pay attention to the age of your shoes. Minor knee pain could be an indication that you need a new pair. It's recommended that athletic shoes be replaced every 300 to 500 miles or every 3 to 6 months.