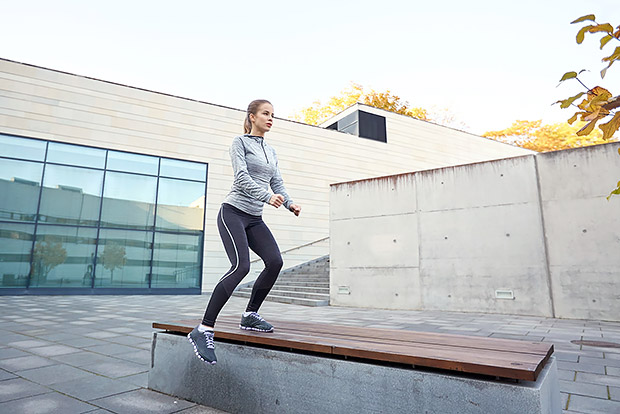 The gluteus maximus and gluteus medius, or glutes, are the muscles of the buttocks. Strengthening these muscles gives you more than a toned backside. Glutes surround the pelvis and keep it aligned with your legs and torso during movement. Weak gluteal muscles have been linked to a variety of injuries such as shin splints and Achilles tendinitis. Additionally, many activities, like running, strengthen the leg muscles but have little effect on glute strength, and can cause a muscular imbalance .
Research shows that the squat is the most effective exercise for targeting the glutes, but you can add variety to your workouts with a few other exercises that are nearly as effective. Incorporate 1 to 3 sets of these exercises to target your glute muscles and reduce risk for injuries.
Single-Leg Squats
Select a step or box that is 12 to 15 inches high. Push it up against the wall to help keep it steady. Stand on the box and shift your weight to your right foot. Slightly bend your left knee to lift your left foot off the box. Slow squat down by bending your right knee and raise back up to the starting position. Single-leg squats are more challenging than traditional squats so you may only be able to lower 3 to 6 inches. As your strength increases, try to bend the knee more and sit back further to lower into a deeper squat. Repeat all repetitions before switching to your left foot.
Step Ups
Hold a dumbbell in each hand, and stand facing your box. Step onto the box with your right foot. Allow your left leg to stay straight and relaxed, but do not allow it to rest on the box. Lower back down to the floor leading with your left foot. Repeat all repetitions on one side before switching legs.
Single-Leg Deadlift
Stand holding weights in both hands with your palms facing your thighs. Keep your back straight as you bend at the hips and lower the weights towards the floor. Allow your left knee to bend slightly as you extend your right leg behind you. Lower the weights to about shin height and use your glutes to lift your right leg until it is parallel to the floor. Your body should be in a straight line from your shoulder to your heel. Slowly return to the starting position. Repeat all repetitions on one leg before switching to the other side.
Walking Lunges
Stand holding a dumbbell in each hand. Take a big step with your right foot forward. Bend your right knee and lower your thigh parallel to the floor as you also bend your left knee. Keep your front knee in line with the center of your foot. Stand back up and step your left foot to meet your right. Next, step forward with your left foot. Do 4 to 6 alternating walking lunges in one direction. Turn around and perform the walking lunges back in the other direction.