Good Fast Food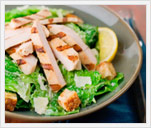 Fast food has become known as a dieter's nightmare. Unfortunately, many of us simply do not have the time to prepare every meal ourselves. Luckily, most fast food restaurants are beginning to offer healthier items. Selecting healthier menu items and consuming reasonable portions can help you meet your health goals while still allowing for a quick bite.
Below are some tips to consider when choosing your fast food.
Select the grilled or baked items instead of fried.


Substitute. Ask for a side salad with fat free/low fat dressing on the side instead of French fries.


Choose the one part of a 'meal' (sandwich, side, drink) that you like best. Order that one item, but order healthier alternatives for the other two. If you always get a burger meal because you like the type of burger, simply order the sandwich. Then try a fruit, salad, or vegetable for your side. You could also have water, unsweetened tea, or fat free/low fat milk instead of soda.


Only eat half of your order, or split it with a friend.


Ask for whole wheat buns, wraps, or bread.


Make a special order. Most restaurants will have no problem removing cheese, sauces, bacon and other extra toppings.


Stay away from large and super size items.


Ask for the facts. If you are unsure about which menu items may be the healthier choices, ask your cashier or server for the nutrition facts. Most fast food restaurants have this information posted within the store or in a pamphlet.

© 2023 MyFoodDiary.com. All Rights Reserved.